What Functions Does Carplay Provide?
What Functions Does Carplay Provide?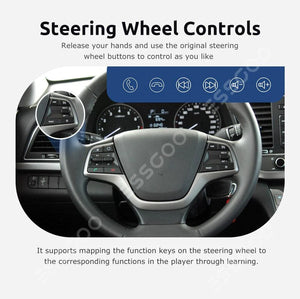 The CarPlay interface is intended to be immediately recognizable to anybody who has used iOS on an iPhone, iPad, or iPod Touch. The iPhone is linked to Carplay through Lightning cords, displaying an iOS-style interface on the vehicle's display.
Touch screens, Siri, or different automotive controls positioned in the steering wheel or other places, depending on car manufacturer, can be used to access applications.Although the program may be launched via touch controls, functions such as sending text messages, phoning, or changing music tracks are mostly handled by Siri.map The map is supported by the iPhone's Apple Maps application.Users may acquire detailed turning routes in Carplay to assist them navigate. The CarPlay interface clearly displays the route, driving directions, traffic conditions, and upcoming visual cues.
Telephone
Siri can make phone calls, respond to phone calls, and listen to voice emails using telephone apps. The CarPlay Phone application has a keyboard so you can type numbers on the touch screen, but in most circumstances, you may begin a call simply asking Siri to dial the existing contacts.
Information
Sending information, like the phone, is dependent on Siri. Siri validates the content of the message before sending it by speaking it to the voice assistant. When users receive a response, Siri will ask whether they want to read it aloud and then give them the choice to send another text message. To prevent consumers from looking at their iPhone while driving, the whole interaction is voice-based.Audio read programs are included in the iBooks application and allow users to listen to audiobooks while driving.Customers may use CarPlay Music apps to access content downloaded from iTunes, Apple Music streaming services, and free Beats 1 radio. The UI of the music application, like that of other CarPlay applications, is easily identifiable, and you may access artists, tracks, and playlists.CarPlay users may listen to podcasts they have downloaded using podcast apps. The CarPlay interface is identical to the experience on the iOS device, and those who frequently use the PODCASTS program should be immediately comfortable with it.
CarPlay application from a third party
Apple also permits third-party developers to create CarPlay-specific applications. To avoid being introduced into a car, the accessible application is mostly auditory, mostly non-visual, and the material is presented through the car speaker. Third-party applications will only be displayed on the Carplay display if the app is installed on the iPhone. The amount of applications compatible with CarPlay is restricted due to audio limitations, however many podcasts, navigation, and music applications are.Dinpei is a reputable automobile audio company. CarPlay and Android Auto are available. They come in a variety of sizes to fit your vehicle. Please contact us if you wish to purchase!