What is the purpose of the DIN standard?
What is the purpose of the DIN standard?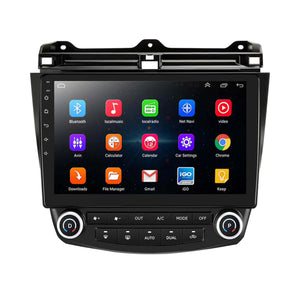 What about going backwards? Is it possible to put a double DIN in a single DIN slot?
Yes, but it will require a little more effort. You'll need to buy a conversion kit, which will need you to change the dashboard. This is not something we would suggest to a newbie.If you desire a larger screen, you may also go with a single DIN with a floating screen. This design is adaptable because it takes up little space when folded.
What Is the Difference Between Single DIN and Double DIN Radios?
It is difficult to discuss a single DIN without simultaneously discussing a double DIN. They are today's common sizes for automobile radios.When comparing single DIN versus double DIN, the size is the most significant factor to consider. A single din is 2 x 7 inches in size, as previously stated. A double DIN radio, on the other hand, is 7 inches long but somewhat taller at 4 inches.
Because of the size differences, a double DIN head unit is more convenient to operate. This makes it a better alternative if you wish to attach a camera to your head unit, as the screen is bigger, making the live feed easier to see.Furthermore, if you want to utilize the head unit to view movies while driving or even for turn-by-turn navigation, the double Din is superior because to the larger screen.While a single DIN Apple CarPlay or Android stereo can be used, the size limits can be a disadvantage.Nonetheless, there is no difference in sound quality. It is one item that will be determined by the radio's other elements, such as the amplifiers or speakers, rather than their sizes.
How can you tell whether your car radio is single DIN?
The size of your car's radio is the best method to detect if it has a single DIN radio. It is 2 inches by 7 inches in size.
What is the purpose of the DIN standard?
The DIN standard is required because it facilitates customisation. Not to mention, it is less expensive. Because of these standards, if you wish to improve your car's entertainment system after a few years, you may simply purchase a new radio.Consider the case when there is no DIN standard. Radios will be available in a variety of sizes. As a result, finding one that will fit in your car's supply is challenging. If you have a radio that is not of conventional size, you will need to alter the dashboard slot.
Which is superior, double DIN or single DIN?
It is a question of personal taste. If you have a compact automobile with little dashboard space, a single DIN is preferable.Meanwhile, double DIN is a better choice if you want a huge radio with a screen where you can watch a movie or check GPS navigation. It also offers greater control space, making it easier to operate.
Conclusion
Now that you reached the end of this guide, we hope that you learned a thing or two about what is a single DIN radio.