What other features should you look for in a car stereo?
What other features should you look for in a car stereo?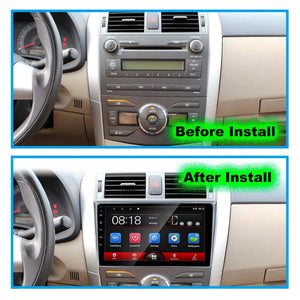 What non-musical functions do you want?
Car stereos nowadays can do much more than just play music. Consider these alternatives.Android Auto and Apple CarPlay: As previously said, touchscreen stereos are the greatest at bringing your smartphone into the car. The CarPlay and Android Auto apps integrate your favorite phone services for driving (navigation, calling, news, audible and voice-texting, and podcasts).
Bluetooth: When used with a compatible phone, Bluetooth connection allows for hands-free calling and music streaming. Even if you don't believe you need it, you should probably make sure your new radio includes it.
GPS Navigation: Stereos with built-in navigation assist you avoid getting lost (or find your way back if you do). The navigation screen is significantly larger than that of your phone or other portable navigators. In addition, you get touchscreen controls for your radio.
In terms of touchscreen controls: big displays, a plethora of built-in capabilities, and simple viewing are just a few of the benefits of designing your audio system around a big touchscreen receiver. To understand more, see our article on the benefits of a touchscreen receiver.A floating screen will update your dashboard.
What else should you look for in a vehicle stereo?
Cosmetics that are cool
With their high-tech displays and cutting-edge layouts, aftermarket car stereos may improve the aesthetic of your vehicle's interior. Consider a multi-line display to show song, album, and artist information without having to scroll. They also make controlling and adjusting the stereo simpler.Full-color dynamic displays and configurable color schemes are available for a better fit to your dash illumination. Look for a stereo with illumination that flashes to the rhythm if you want to improve your listening experience!
A floating screen - a screen that does not fit in the dash but "floats" in front of it, often measuring between 7 and 11 inches - is the current hot trend in vehicle stereos. These stereos provide even more "ease of use" capabilities and significantly increase the stereo's "wow factor."Display of the backup camera.The ability to employ a backup camera in conjunction with a touchscreen receiver's display can save the day.
Backup cameras and driver assistance
A growing number of touchscreen stereos contain at least one camera input, with some offering up to four. Adding a backup camera, a dash cam, and/or side cameras can assist maintain a high level of safety. Some of our car audio integration adapters can also assist you in integrating factory cameras, allowing you to preserve their functioning even after installing a new vehicle radio.
Audio extensibility
You may extend your system by adding portable music players, back seat television displays, external amplifiers, and powered subwoofers to your new stereo via auxiliary inputs, USB connections, and audio/video outputs.
If you're adding extra audio components to your system, preamp outputs allow you to connect external amplifiers to power your speakers or a subwoofer. The number of outputs might vary, but at least one set is required. The output voltage normally varies between 2 and 5 volts. The greater the voltage rating, the cleaner the signal sent to your amplifier. If you want to add a subwoofer, search for a model with a separate subwoofer output, which will allow you to regulate the subwoofer level independently rather than through the bass control.
DIY Installation Assistance
We provide all of the installation components, accessories, and equipment you'll need to put in a new stereo.If available, we offer free step-by-step instructions relevant to your vehicle. We also sell the installation parts and accessories you'll need for most vehicles, and you'll get them at a significant discount when you buy any receiver from us.
A panel removal tool will make installation easier in most vehicles and will help you avoid harming your dash.Posi-Products are a type of product. The Car radio Connector Kit simplifies the process of connecting your vehicle's electrical harness to your new car radio.Do you want to keep utilizing your steering wheel audio controls with your new stereo? A specific adaptor is required. We'll tell you which adaptor will work for you when you tell us about your car and select a radio.We also demonstrate how to utilize common home equipment (such as a screwdriver) while installing your receiver. We also sell these tools if you don't have them.
What will be the next step?
Make a list of the characteristics you most want while keeping the points mentioned in this article in mind. Then, using our vehicle picker, get a selection of stereos that will fit your vehicle. Use our site's filters to narrow down the list and highlight your preferred features. Alternatively, disregard that and dive right into the in-dash receivers!