What You Should Know About Apple CarPlay?
What You Should Know About Apple CarPlay?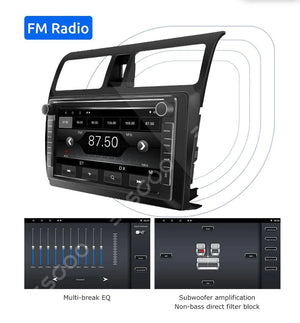 Apple CarPlay is the tech giant's first step into the vehicle, and it's a safer, smarter way to use your iPhone in your car, according to Apple. This article will go over four important aspects of Apple CarPlay. But first, how can I set up CarPlay in my vehicle?
To begin, think of CarPlay as an operating system that runs iOS apps on your car's infotainment system. Because it is built into iOS, you can activate CarPlay in your vehicle as long as you have a compatible iPhone and a suitable in-car radio.Following that, there are two methods for obtaining CarPlay. If you're in the market for a new vehicle, make sure it comes from one of the automakers who has committed to CarPlay support.CarPlay is available to readers who already possess a car by obtaining an aftermarket in-car multimedia receiver. Fortunately, most audio installers can now install bespoke units in any automobile on the market today (if requested). DINPEI sells Apple automobile audio.
Siri is crucial
CarPlay is voice-based and depends on Apple's personal assistant, Siri, to reduce driver distraction by being hands-free.  
If you dislike using Siri or speech recognition software in general, you're out of luck, because that's Apple's major notion for making your iPhone safer to use in the car.Other functions, fortunately, can be utilized without Siri. You may, for example, manually input your destination into the Maps app. When attempting to make a call, you can also manually input phone numbers. Siri can do it for you as well, but I like to do it myself.
A few third-party applications
It's worth noting that not all applications are available on CarPlay. There are now just official Apple applications like as Maps, Messages, Phone, and Music, as well as a few third-party apps such as Spotify, Amazon Audible, CBS Radio News, Umano, and others. This is because these apps must be customized for CarPlay to ensure safe functioning. The UI must be straightforward and simple to use, as well as strongly connected with Siri.
Suggestions for soundproofing
Because Siri is so vital to CarPlay, it's preferable to keep the cabin quiet so Siri can hear your voice instructions properly. In fact, most installers will advise utilizing soundproofing to improve Siri's performance. It's a great investment since soundproofing allows you to listen to music in a quieter cabin with less road, tire, and wind noise.It is strongly suggested that you have steering wheel controls that can be mapped to allow Siri in order to fully utilize CarPlay. Furthermore, you can rapidly skip tracks and adjust the volume using the steering wheel controls.
CarPlay is distinct
Finally, CarPlay is a distinct Apple product. Allow me to explain. Apple's secrecy is widely known, but so is the company's attention to detail and desire to have complete control over the production and user experience. Apple recognizes that it is entering unknown terrain with CarPlay and is depending on third-party brands to put CarPlay into iPhone users' cars and manufacturers to provide CarPlay-enabled cars to existing iPhone consumers.
What You Should Know About Apple CarPlay
CarPlay, in contrast to Apple's other offerings, feels primitive and, dare I say, a work in progress. The UI is far from great. CarPlay is still a terrific method to use your iPhone in your car. The UI might use some improvement, but it looks amazing and most functionality are easily accessible. We specialize in the creation and marketing of vehicle DVD players, car radio receivers, and car stereos, and we offer professional and efficient one-stop services ranging from design through mold manufacture, hardware, software, production, and shipment.  Please send us a message with the one you need to purchase, and we will get back to you as soon as possible.