WHICH CAR STEREO IS RIGHT FOR YOU: SINGLE-DIN OR DOUBLE-DIN?
WHICH CAR STEREO IS RIGHT FOR YOU: SINGLE-DIN OR DOUBLE-DIN?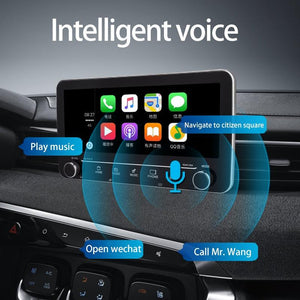 Are you looking for a vehicle stereo? If this is the case, you should be aware that in-dash head units come in a variety of sizes. These are known as DIN sizes, and you have two options: single-DIN or double-DIN. Let us now examine the distinctions between the two.
WHAT EXACTLY IS DIN SIZE?
"DIN" is an abbreviation for Deutsches Institut für Normung, or the German Institute for Standardization.This Berlin-based company creates and maintains hundreds of standard measures used in the automotive, engineering, and technology industries.When the ordinary North American hears the word "DIN size," it usually refers to the chassis size of a vehicle radio. When shopping for a car audio, you'll come across two basic DIN sizes:A single-DIN automobile radio measures two inches height and seven inches wide. The Sony head unit seen in the top image of this page is a single-DIN model.Double-DIN: A double-DIN automobile radio is seven inches wide, just like a single-DIN type. A double-DIN stereo, on the other hand, stands four inches taller than a single-DIN one. The stereo depicted in the article's body is a double-DIN type.
SINGLE-DIN VS DOUBLE-DIN: PROS AND CONS
Here are some advantages and disadvantages of single-DIN head units:Single-DIN units are simple to install.They can be a low-cost yet major improvement to an old or damaged car audio. They might include features such as an auxiliary input port or wireless Bluetooth audio.Single-DIN devices are rather compact, with little area for controllers. Controls may be difficult to reach and utilize in some circumstances due to a shortage of real estate.Single-DIN stereos often lack a touchscreen. Some models have a fold-out touchscreen, however they are uncommon and more costly.
Now consider the advantages and disadvantages of double-DIN stereos:
Double-DIN stereos have extra control space. Because of the greater space, the controls on double-DIN devices are frequently simpler to access and operate than those on single-DIN units.Because of their larger size, double-DIN stereos have place for a touchscreen, but single-DIN stereos do not, unless the touchscreen is a foldout version, as previously indicated. A touchscreen stereo has several advantages. Touchscreen stereos are easier to operate than non-screen stereos, having easier-to-read displays. They also provide greater phone integration. Furthermore, certain touchscreen stereos may be outfitted with capabilities such as a rearview camera, onscreen GPS navigation, Apple CarPlay, and Android Auto.These characteristics are not commonly seen in single-DIN head units.Installing double-DIN stereos is more complex than installing head units without displays.Double-DIN models will be more costly than single-DIN models.
WHICH DIN SIZE IS MY CAR?What is the difference between a single DIN and a double DIN?
Before purchasing a vehicle radio, you must choose which is best for you.Vehicles that can support double-DIN head units may usually accommodate single-DIN versions as well. The opposite is not true, since cars designed for single-DIN units do not usually have adequate space for a double-DIN stereo.Looking at the panel that contains the radio controls can sometimes tell you which size is appropriate for your car. You have a single-DIN if it's the short two-inch one. The simplest approach to determine whether a unit's DIN size is compatible with your vehicle is to utilize an internet lookup tool. After entering the make, model, and year of your vehicle, these tools will tell you if your vehicle can fit a single-DIN stereo, a double-DIN unit, or both.