Why Advanced Driver Assistance System (ADAS)?
Why Advanced Driver Assistance System (ADAS)?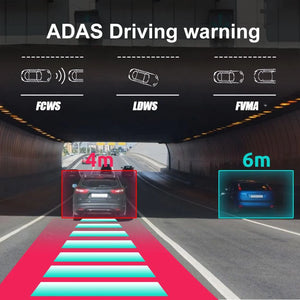 Studies show that over 80% of road traffic collisions are caused by human error, and a 2-second early warning can prevent 99% of accidents.Advanced Driver Assistance System, or 'ADAS', is designed to help prevent accidents by scanning the road ahead for potential hazards and warning the driver.This friendly driver assist system notifies the driver during the journey with unique alerts using sound, vibration and pictographs. The AI-powered algorithm works continuously in real time to prevent accidents and safeguard your fleet assets.
Request a Callback
In-cabin view of the road ahead with Advanced Driver Assistance System installed in the vehicle.A recent study carried out by AXA insurance group found that just 1.5 seconds of warning can prevent 90% of collisions.It is proven that a 2-second warning can significantly reduce the probability of forward-collisions almost entirely; allowing for more confidence on the road and the avoidance of serious incidents.The advanced driver assistance system delivers the vital 2-second early warning of the following:Forward Collision ,Lane Change,Safe Distance ,Pedestrians.
How an advanced driver assistance system works to keep drivers safer
Here are just some situations when the system will notify drivers about the probability of getting into an accident:When the vehicle ahead has stopped, has sharply applied the brakes or dangerously reduced the distance between vehicles.The indicator was not applied before changing lane.If 2 second braking distance between the vehicles is not maintained when driving at a speed of more than 15mph.If a cyclist or pedestrian is within the trajectory of the vehicle.
How ADAS works to keep drivers safer
Lane Departure Warning System
An advanced driver assistance system (ADAS) detects an unsignaled lane change or lane veering and sends an alert via display panel to get back in lane.ADAS Lane Warning,Front Collision Warning,ADAS warns you when the vehicle ahead is too close. It scans the road ahead and displays current braking distance in seconds.Front Collision Warning Advanced Driver Assistance System
Pedestrian Detection
An advanced driver assistance system (ADAS) notifies the driver when a pedestrian or a cyclist is entering the vehicle path.Advanced Driver Assistance System Pedestrian Detection
Driver Fatigue Prevention Using Facial Recognition in ADAS
Imagine a camera that can recognise the symptoms of tiredness, yawning, drooping eyelids and the like, and alerts the driver to take heed and rest via a dashboard-mounted system.This, and more, is made possible by enabling powerful Facial Recognition functionality in our Advanced Driver Assistance System.Learn more about Driver Fatigue systems.Benefits of an Advanced Driver Assistance System (ADAS).Visible co-pilot.The main purpose of the advanced driver assistance system is to alert the driver of potentially dangerous road hazards, making driving safer.
Saves fuel consumption
ADAS helps to change the driving style of the vehicle, saving fuel consumption by 15%.Reduced maintenance costs.An advanced driver assistance system can reduce the cost of vehicle maintenance by up to 6% by minimising the wear factors of the brake pads and tires.