Why do more consumers prefer a WinCE system with CarPlay for their vehicle radio over a regular Android unit?
Why do more consumers prefer a WinCE system with CarPlay for their vehicle radio over a regular Android unit?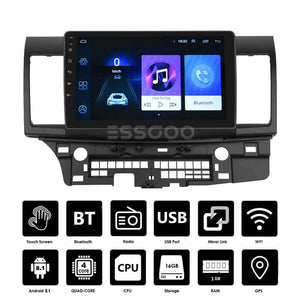 What exactly is a WinCE system car radio with CarPlay and Android Auto capabilities?
With the technological advancement of the interconnection operation between the mobile phone system and the car system, an increasing number of customers want to share the music or navigation functions of the mobile phone on the interface of the original car radio, so Apple developed the CarPlay function for IOS mobile phones and Google developed the Android Auto function for Android phones.Because CarPlay and Android Auto have supplemented vehicle owners' demands for most driving amusement other than the radio function, we have produced three universal car radios: 7 inches, 9 inches, and 10 inches as a professional car radio provider. It features not only standard capabilities such as radio and MP3, but also wireless CarPlay and wireless Android Auto after replacing the original vehicle screen with our gadget. It is more convenient to use APPs like music and navigation from the mobile phone on the automobile interface while driving securely.
What are the advantages of the WinCE solution over the Android system?
Dinpei Electronics, as an experienced Chinese vehicle multimedia maker, can better comprehend changes in overseas clients' need for car stereos. Although Android car radios may perform network operations and APPs such as YouTube and Netflix can be downloaded from Google Play, the open Android system itself is generally unreliable due to limited RAM and ROM. A significant number of downloads and data caches will cause the Android head unit to perform slowly.Furthermore, the Android version is updated at least once a year, but most Android car radios cannot simply update the software to achieve the upgrade of the Android version, resulting in the original Android car device being unable to use the newest APP functionalities and the cost performance being lowered.Furthermore, the objective system instability of the Android head unit may cause certain after-sales issues for car manufacturing customers, such as system collapse, touchscreen failure, software update, and so on.Our most recent WinCE system vehicle radio is a closed system with exceptional stability, and the after-sales rate is essentially kept at 0.1%. Aside from the network download capability, it has wired and wireless CarPlay as well as wired and wireless Android Auto. It costs far less than an Android vehicle radio and is popular in more than 20 nations and areas worldwide.
What kinds and designs do our WinCE car multimedia have?
Dinpei Electronics, a renowned automobile navigation provider, provides a wide range of molds from which abroad clients may pick.To satisfy the demands of diverse clients, the 7-inch tablet is separated into two sizes: 178*100mm and 170*96mm, with button variants and full-touch models. Furthermore, 9-inch and 10.1-inch displays have been designed in a universal structure that can fit several sorts of plastic frames on the market, such as Android head units, making them appropriate for various automobile models with a stable system and great cost-effectiveness.Furthermore, we can create a single-din or double-din body for the same panel mold based on client needs, and we can even manufacture an ultra-thin body to save on shipping expenses. Customers may pick between two alternative UI styles, and they can even customize their own UI design for free.