Why should you buy a digital multimedia stereo?
Why should you buy a digital multimedia stereo?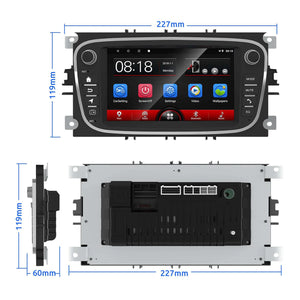 If you rely on your smartphone for more than simply phone calls and music streaming, upgrading to a digital multimedia receiver makes sense. You'll have your pick of the aforementioned capabilities, as well as next-level smartphone connectivity and video capability.Choosing a digital multimedia receiver elevates you from a standard vehicle radio to a modern automotive command center. With touchscreen control and driver assistance capabilities, your receiver may do more than simply provide entertainment; it can also improve your driving experience. Let's look at how...
Sony with an Apple display
Apple CarPlay and Android Auto are now available in more digital entertainment receivers than ever before, making interaction with your dash's touchscreen as natural as it is with your iPhone or Android.
The number of apps that are compatible with Apple CarPlay and Android Auto is extensive (and interesting). You'll get a unique interface intended for usage in the car with touchscreen control over your favorite app in the car. Listen to podcasts on Stitcher, music on Spotify®, news on NPR One, and, most crucially, Waze for directions and traffic updates. That is only the tip of the iceberg in terms of applications.
Displays of EQ and TimeAlignment
Sound-tweaking tools that are easy to use.Controls that go beyond simple bass and treble changes allow you to adapt the music to the acoustics of your automobile. Many digital media receivers include extensive sound-sculpting features, but employing a digital multimedia receiver's touchscreen interface opens up new possibilities and makes modification easier than ever. In certain digital multimedia receivers, adjusting time alignment and EQ curves is as simple as dragging your finger over the display to change your music in real-time.
Installing a backup camera
Installing a new car radio is an excellent opportunity to install a backup camera, and a digital multimedia receiver serves as the monitor for your new camera. Some allow you to install additional cameras, such as dash cams and trailer hitch cams.
Vehicle Specifics Vehicle Integration Benefits
When installing a new car audio, keeping crucial factory features like a factory backup camera, steering wheel controls, and access to vehicle data is naturally a priority. You'll enjoy the greatest upgrade experience possible with an iDatalink Maestro radio replacement package and a compatible digital multimedia stereo.
Extra-large screen Factory radio displays have grown in size in recent years, and our digital multimedia receiver range has grown to accommodate screens larger than 10". These receivers, which use a "floating" screen design, may fit in dash apertures that previously could not accommodate touchscreen vehicle stereos. A larger touchscreen display makes stereo control simple and enjoyable at a glance.
DIY Installation Assistance
When you buy any receiver from us, you may acquire the installation parts, accessories, and equipment you need at a significant savings.We provide step-by-step instructions unique to your vehicle, which are free for most vehicles; we also have the installation components and accessories you'll need for most vehicles.A panel removal tool will make the installation easier in most cars and help prevent scratching your dash.Posi-Products are a type of product. The Car radio Connector Kit simplifies the process of connecting your vehicle's electrical harness to your new car radio.Do you want to keep utilizing your steering wheel audio controls with your new stereo? A specific adaptor is required.
What will be the next step?
Make a list of the characteristics you most want, then browse the range of stereos that match your vehicle. Or simply browse our receivers to discover what types and configurations are available.If you have any more questions, please contact us at 1-888-955-6000. You'll be listening to your music library on the ideal vehicle audio before you realize it.