Why Should You Install an Android Stereo in Your Car?
Why Should You Install an Android Stereo in Your Car?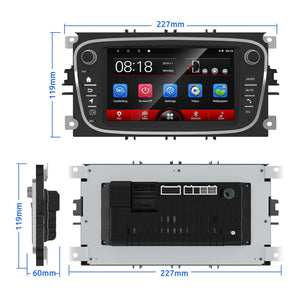 Driving while not listening to music is, well, driving at all! It's so dull going from home to work and back without listening to your favorite music. It's energizing, motivating, and makes every journey more enjoyable. Car radio technology has advanced significantly in the last decade, with models now offering a plethora of functions to make driving an unforgettable experience. It's reasonable to assume that a current, powerful, and feature-rich Android stereo system is now required.In light of this, here are 5 compelling reasons why you should install one right away!
1.Playing your favorite songs over Bluetooth connectivity
An Android stereo system is based on the Android platform, and it is simple to install in your dashboard. If you want the most bang for your buck, you should opt with the Universal Android 10 Touch Screen system, which offers a variety of features. You can immediately connect your smartphone to the system and listen to your playlists thanks to simplified Bluetooth communication. Furthermore, with a tap on the screen, you can make and receive calls and texts - talk about a one-stop infotainment system!Bluetooth connectivity allows you to listen to your favorite songs.
2.GPS Navigation Capability Simplified
An Android 10 Double Din vehicle radio gives better GPS navigation while listening to music. While many people use their cellphones for navigation, you can instantly enable the GPS capability on your audio system and utilize a hands-free navigation system. Sure, the system may cost a little more, but consider the increased degree of comfort and convenience. It's also safer because you'll be able to keep your eyes on the road. Furthermore, your GPS will keep you informed of traffic conditions, saving you time and energy.
3.Simple access to YouTube
Listening to music is not the only form of enjoyment available. Installing an Android audio system would also allow you to listen to podcasts and watch movies by quickly connecting to YouTube. You may also browse the internet - think of it as a one-stop entertainment centre where you won't have to rely on your smartphone all the time. The YouTube app is pre-installed in the Android 10 Car Stereo 7′′ Double Din system. It's as simple as opening the app on your smartphone and connecting to YouTube in your sound system to experience next-level entertainment on a lengthy journey.
4.Make and receive phone calls and text messages
Another significant benefit of installing a double din Android 10 music system is the ability to make and receive calls without ever having to pick up your phone. You may do the same with text messages. The stereo has a wireless Android auto system for connecting your smartphone to the stereo panel. It simply takes a few seconds to set up. After finishing the setup, the system will link your phone over Bluetooth and preserve the settings. So, if you get in your car and turn on the audio, it will instantly link to your phone and allow you to use many services hands-free.Every phone call and text message you receive will be shown on the panel screen. It's something you didn't realize you needed. Furthermore, if your children use your car, it might serve as a safety precaution to ensure that no one in your family texts or calls while driving. Furthermore, you may mute your chat by touching on the screen and send personalized responses such as "Busy Driving" or "Can't Talk" when you don't want to receive any calls.
5.A larger, more immersive display
You'll be pleased to learn that the Android 10 double din universal series is available in a variety of display sizes. There are three possible screen sizes to choose from: 7, 9, and 10 inches. It truly comes down to personal choice. For example, if you prefer viewing shows and movies while driving, a larger and higher quality display, such as the 10" Android stereo system, would be ideal. A 7" screen will adequate if you only want to listen to music and use other multimedia possibilities. Android music systems feature some of the most responsive interfaces seen in vehicle stereos. It is simple to maintain and will significantly improve the inside of your vehicle.