Wireless Apple CarPlay Adapter for All Vehicles
Wireless Apple CarPlay Adapter for All Vehicles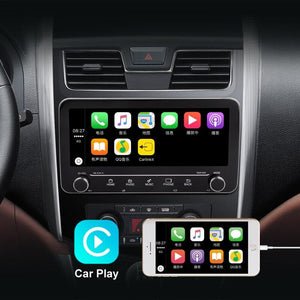 When wireless CarPlay is available in your vehicle, wired connections become outdated. Many automakers should be embarrassed at this stage. Why? Because their infotainment system is woefully inadequate. It is hardly an exaggeration to suggest that the adoption of CarPlay renders all in-car infotainment systems obsolete. However, most manufacturers' vehicles currently only accept a wired CarPlay connection. So, why plug in your phone when you can utilize a wireless Apple CarPlay adapter?
What Is the Use of a Wireless Apple CarPlay Adapter?
To make it function in most automobiles, you must plug your phone into the car. This necessitates the use of a Lightning to USB cord, which may be uncomfortable. You have to struggle with your phone every time you get in the car. When you connect, your phone will look for updates and CarPlay will start working.The wireless CarPlay and Android Auto adapters serve a simple purpose: they remove the necessity for your phone to access CarPlay and Android Auto capabilities. Some individuals don't mind, but for others, this convenience is a welcome adjustment. Because it is totally wireless, you can set your phone aside and not have to check it every few seconds. The wifi connection ensures a smooth experience,allowing you to get the features you want automatically just by jumping into the car.
The Best Wireless Apple CarPlay Adapter For Any Car
It's fantastic to be able to access all of your primary iPhone apps from the dashboard of your car. CarPlay has a simple UI and easy access to all of the essential functionality. Most significantly, it supports Siri and third-party apps, which are essential in a car. CarPlay now has widget views. You may have an animated map with your music player and phone controls on the side this way.Binize wireless Apple CarPlay adapter connects to your vehicle through a regular USB connector and acts as a wireless conduit between your vehicle and iPhone. You may then connect to the adaptor wirelessly through Bluetooth.You no longer need to connect your iPhone into the car every time you get in.A CarPlay adaptor is a compact, portable gadget that plugs straight into your vehicle. It sports a matte black casing with rounded edges that are more impact resistant than sharp corners. It comes with two short USB tethers that are readily detachable. Unlike a built-in tether or braid, it is also simple to repair if it becomes broken. When the device is plugged in, a brilliant green LED light on the front of the case illuminates.
How Does It Work?
This integrated solution, like other comparable gadgets, operates via the USB input attached to your head unit. It is only compatible with iPhone 6/Apple iOS 10+ and not with specific automobiles. The Binize wireless Apple CarPlay adapter retains the stock steering wheel control without the need for adapters or any extra components. Even while using Apple Maps, the 5gHz Bluetooth connection had very little latency.